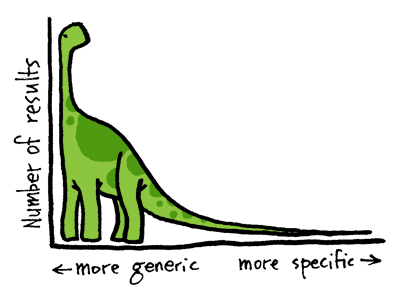 What are long tail keywords? They are the specific niche phrases that help you reach a very targeted market as opposed to short tail keywords that are targeted at a broader marketing. In 2010, on Google, over 50% of searches had over 4 keywords entered. Long tail keywords allow you to better reach your specific targeted audience. This image from the Left Click Blog is a illustration of the long tail.
Let's look at an example:
The words "Real Estate" get 1,000,000 monthly searches. If you are using the keyword real estate, it will be very hard for you to rank. In most cases, it would also not be effective to rank for real estate. If you are a local Realtor, it does not make sense to try to compete for the term "real estate" because you are competing for that phrase world wide.
The term "Real Estate in Mountain Home, AR" gets way fewer searches. If you are a Realtor in Mountain Home, Arkansas, that would be a better keyword phrase to try to rank for because it is specifically relevant to you. This is an example of a long tail keyword phrase.
You can take this example even further. While "Real Estate in Mountain Home, AR" is a good phrase, in this case, you still have a lot of competition because there are many Realtors in Mountain Home. An even longer long tail keyword might be, "Norfork Lake view home in Mountain Home, AR." Of course, there will not be as many people searching with that phrase, but, if they are using those words and they find your listing for a Norfork Lake view home in Mountain Home, AR, you have delivered exactly what they are looking for. That kind of traffic is very valuable because you have exactly what they are looking for!
Think of long tail keyword examples for your business. If you have a static website, the opportunity to get long tail keyword traffic is limited. You should limit your keyword phrases to one per page. If you have a 20 page website, you have 20 long tail keyword opportunities. However, if you have a website that you can expand and add pages or even better a blog, you have limitless opportunities to rank for long tail keywords that will reach a more targeted market.
You can research keywords online with free tools such as Google's keyword tool. You can also do research with paid tools such as Hubspot's keyword grader that can be integrated with your blog and website and track your keyword traffic.
Key Take-Aways:
Use long tail keywords for better traffic. Reach your niche market more effectively.
The more opportunities you take to use long tail keywords, the more effective they will be.
Next Step:
Start a blog! It is one of the most effective ways to reach your target market.