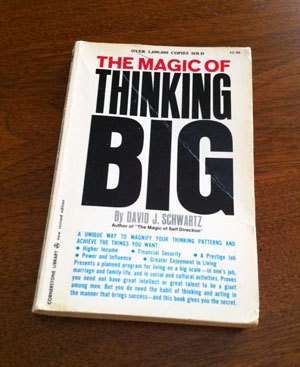 Right now I am re-reading The Magic of Thinking Big by David J. Schwartz. I first read this book in college at the recommendation of the wonderful JoAnn Butler, who was, not only a fabulous teacher and mentor, but also the person I worked for as her secretary while I was in college.
The book is about improving your attitude and thinking patterns. This book was a great book to read in college. In fact, the actual book I am reading right now is my husband, Joe B.'s, copy from when he was in college. The cover is creased and the pages are yellowing but it is still a great book to read 25 years later. Twenty-five years of life will really put a different perspective on how you view everything.
Many business owners could benefit from reading such books. When you are in business, it can be very easy to get caught up in the everyday business of running a business and forget about the goals and dreams we had when we first started. As one person put it, sometimes "life is just so life-y."
In tumultuous times such as we are experiencing today, don't forget your goals and dreams, and remember to THINK BIG!
{ 0 comments }