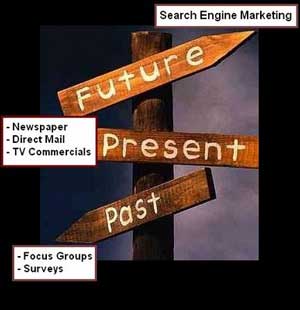 Internet marketing is very different than the kind of marketing my Grandpa and family did when I was growing up.
I grew up in a family of small business owners. I remember many family gatherings where there was much discussion about marketing and advertising. There was discussion of competition and strategy. As kids, we were told this was "dead man's talk", which meant whatever we heard was not meant to be discussed outside of the family. As I write that last sentence, I'm thinking it kind of sounds like mafia, but it wasn't anything like that- just business talk among family.
Marketing has changed a lot since those days (don't I sound old?). In those days, marketing was interruption based. Commercials would interrupt your favorite TV shows, commercials would interrupt you while you were listening to your favorite tunes on the radio. Telemarketers would call you while the family was having dinner. You get the idea. Businesses who were advertising had to interrupt you and get your attention to market to you. TV and print ads focus a lot on "getting your attention." Print advertisers think a lot about colors and fonts and placement. Everything is designed to get your attention away from reading an article and on to their advertisement. Those techniques are still used in those media.
The internet is a different kind of medium. Internet Marketing is permission based. The majority of people now start the purchase process online. When people search for a product or service online they are looking for the site that gives them the best information. Yes, they like sites that are aesthetically pleasing, and an attractive site is important. They want to be able to easily move through your site, so good navigation is important. However, when someone is searching for your product or service and they land on your site, what they are really looking for is information.
Unlike old interruption marketing, once people find you online, you don't want to interrupt them from finding the information they are looking for by having things that are flashing or jumping up and down or popping up on the screen. You want to give them information that will give them confidence to take the next step in doing business with you. So give them visual cues as to what to do next. The next step depends on your sales cycle. If you have a short sales cycle, the next step may be to click on a "buy now" button or call you and make an appointment. This would be the case for retailers or services like plumbers or electricians. For others, the sales cycle is longer, so you may have to give your visitors a call to action that just gets them in your sales funnel so you can start nurturing them through the sales process. This would be the case for real estate agents or for businesses selling big ticket items.
Marketers of the past would have been astounded at the possibilities offered by today's internet marketing. Unfortunately, there are still some marketers who want to cling to the past and are still trying to tell us that new marketing is a fad. We have heard it for years, haven't we? The internet is a fad. Well, they don't really even try to say that anymore. How about the old style marketers that say Facebook is a fad and that you will never get customers from Facebook? How many of you have gotten customers from Facebook. I know we have.
Don't get me wrong. I'm not saying that all old marketing is bad. I certainly don't think that TV, radio and newspaper ads are going to go away any time soon (well maybe newspapers, but we won't go there). The truth of the matter is that internet marketing is here to stay until something better comes along. I'm sure the newspaper people didn't like it when radio came along and started taking advertising dollars from them to use on radio ads. In the same vein, I'm sure radio people were not to excited when TV came along and started offering TV advertising. In the same way, today, all of these media are not really excited about internet marketing, but this is the way of the future, whether it is a website, social media or mobile marketing, internet marketing is here to stay.
My Grandpa died at the age of 94 last August. He was a very smart man, and I think he would have loved new marketing!
Key Take Away
Marketing has changed and continues to change. Smart businesses use effective marketing that will grown their business and get them customers.