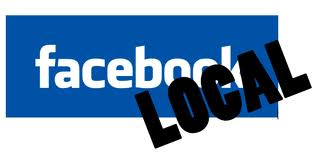 Last week, Facebook rolled out some new updates. I will be doing a post that goes into detail about the updates; but this morning, I'm thinking about local businesses and how they are using Facebook. If you are a local business who is using a 'profile' for your business where you have "friends" instead of a 'page' where people "like" you, this post is for you. If you are a local business who is using a page where people "like" you, check back here for a post on the updates that effect you.
Okay, for all of you who still insist on using a profile for your business instead of a page, did you know that, in addition to being in violation of Facebook's Terms of Service, you are also missing out on some great functionality that is only available to local businesses that are using Facebook pages? Let's look at some of them:
Local businesses get a map so people can easily locate their business.
Local businesses can let people "check in" to their business and get special Facebook deals. They can see the deal before they check in and get instructions about how to redeem the deal (right on their mobile device) once they have checked in. This makes it so much easier and more fun to interact with your customers.
Local businesses have a "recommendation" function so their customers can write recommendations about you and your products.
All pages for businesses (local or otherwise) get Facebook insights so you have an analytics tool to help you measure your campaigns and effectiveness.
Pages have access to "apps" where they can set up all kinds of things, such as special pages to welcome their fans, forms where people can sign up for your newsletter, you have a tab for a page advertising your latest sale. There are apps for a lot of great functions and with an iframe app, you can set up just about any type of custom tab you want.
There are social plugins you can use to invite people to 'like' you from your website, your blog or any other online place that you own.
You aren't at risk of being closed down for violating Facebook's Terms of Service.
There is no limit on the number of fans or likes you can have. A profile is limited to 5,000 friends.
You don't have to send and accept invitations to be friends for a page. Anyone can like you whether they have a Facebook account or not or whether they are signed in to Facebook or not.
All content posted on your Facebook page gets indexed by Google.
Okay, so do you really still want to keep using that profile instead of a page? What is holding you back? Facebook has given you a tool that is easy to use to convert your profile to a page.
Don't miss out. Get the most out of Facebook that you can for your local business! Still scared, contact us and we can help you!