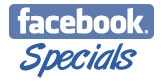 Facebook is a great place to promote deals. I have seen some great deals on Facebook. However good the deals are, though, you have to follow up on them when someone actually shows up to use them.
Recently, I stopped by a restaurant that I had seen regularly posting Facebook specials. I checked in on Facebook but couldn't tell if there were any special for the day I was there. Then, I made my mistake. I asked the waiter if there were any Facebook specials. He said he would check and then we didn't see him again for some time. This left me wishing I hadn't even asked because at this point, we just wanted to order and get on with it, deal or no deal.
What you can learn from this is to make sure that when you are posting deals on Facebook, that everyone on your staff is aware of it. I think in the case of a restaurant like the one I visited, you could just post a notice of what the Facebook special is and when you aren't running one, post that as well. I never found out if there was a deal from this restaurant. I'm not sure if the waiter forgot he was checking that out or just didn't remember to tell us. Once he finally arrived back at our table to take our order, I didn't ask. I didn't want to cause anymore delays.
Facebook deals can be an effective way to bring people to your business, just make sure that you are following up and doing it right when they show up.
Happy Monday everyone – have a great week!