You many want an interactive and flashy homepage that entices your user; however, it is important to understand that fundamentals need to be addressed first. Always keep in mind what is most important to your visitors!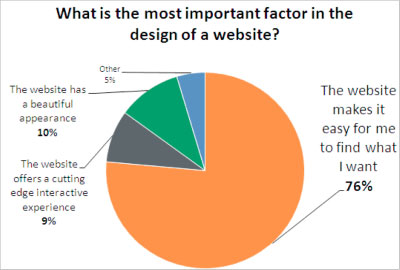 Source: HubSpot, The Science of Website Redesign, June 2011
What is most important to your visitors is that they are able to find what they want. That makes sense. Remember, inbound marketing is all about being there when your customer is looking for you, giving them what they want and converting them into leads/customers for your business.
Your homepage is the face of your services or products. You only get one chance to impress that visitor, so make sure you carefully place the essentials you want them to know on your homepage. It should also act as a launching platform to places where they can contact you in the future (i.e. blog, social media, etc.)
In order to really get the most out of a website redesign, companies need to construct their website in the context of a greater Internet marketing strategy.You can get our checklist of the key issues to address on your homepage from our free eBook: 7 Steps to Website Redesign Success.