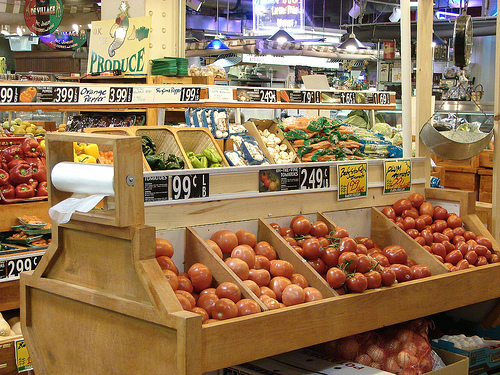 You may have noticed, many grocery stores have similar layouts. The dairy and meat departments tend to be at the back of the store. You have to walk past a lot of other enticing items to get to those mainstay departments. Staple items like salt and flour are usually on lower shelves. Specialty spice blends are placed at eye level. That makes it easier for those items to capture your attention and hopefully go in your cart.
Contrary to what you may have heard, grocery stores don't do this to trick you, they do it to stay in business. It's called marketing and it works. Grocery stores typically run on a pretty narrow profit margin so they use everything they can, including layout and design to make it easier for you to buy more.
We can use the same principles in our online marketing efforts. A grocery store wants to "introduce" you to items that you might buy while you are on your way to items you were going to buy anyway. Online, things are different. People are impatient. They want to find things quickly. So, while we can use layout and design to help our marketing efforts, it will be in a very different way.
You may have noticed that, like grocery stores, many websites have similar layouts. Navigation at the top or down the side. Often the navigation will include drop downs or flyouts to make it easier to get where you want to go in fewer clicks. There may also be sidebars where you can find a compelling call to action. The reason so many businesses use similar layouts is the same reason so many grocery stores have similar layouts. It's called marketing and it works.
There are companies who specialize in grocery store layout. They create layouts and designs that will market products effectively. This gives the grocer a better chance at making a profit and staying in business. There are also companies (like Wharton Marketing) that specialize in web design for effective marketing. Good design gives businesses a better chance at being successful and growing their business.
Look at your own website. How easy is it for visitors to find what they are looking for? How many clicks does it take? Don't just use your own experience. Get someone outside of your business to try it out. How easily is your site viewed on mobile? What works well and what doesn't work? Take a lesson from your favorite grocery store and make it easy for people to buy more!