One of the questions we are often asked is how often should I post to my blog. The quick and easy answer is at least once a week, but more is better. However, let's dig a little deeper.
You already know that each post gives you one more indexed page that can be found by search engines and people. So, now you need to look at your goals. The more aggressive your goals, the more often you will need to post. If you are posting once a week, you should have 52 more indexed pages in one year. That is 52 more opportunities to be found by people looking for you through search engines. You can see from that example, that if you are posting more often, you will increase your chances of being found exponentially. Web spiders will generally crawl your site once a day, so if you are a small business, it may not make a lot of sense to blog more than once a day, but according to a study by Dan Zarrella of HubSpot, companies that post more than once a day do get a great deal more traffic.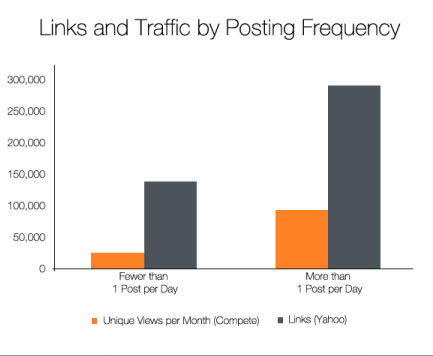 Think about how much business can you effectively handle. If you are a small operation, you have to consider that a) you probably don't have the time and staff to be blogging several times a day and b) if you get a huge increase in customers, you may not have the staff and resources to adequately serve them.
Another thing to consider is your sales cycle. Don't make the mistake of thinking that people don't do research before they pick up the phone and call you or walk into your store. How much information do your customers need from you before they are ready to purchase?
Carefully, look at your goals and your capabilities. You still need to commit to at least once a week for your efforts to be meaningful, but beyond that, you need to take other things into consideration.