Apparently, for some it is. Yesterday, Facebook made some major changes to the way it displays users' news feed. This was followed by much angst and gnashing of teeth. Soon, "I hate Facebook" pictures started showing up, followed by more supportive pictures like this: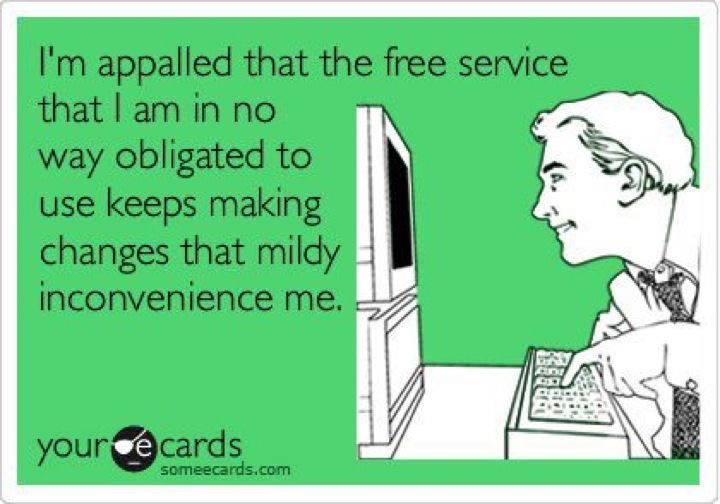 More to come
In case you didn't like yesterday's changes, brace yourself because more "profound" changes are on the way. In fact, in an article from Mashable, Ben Parr tells us that he has seen the changes and "it's going to change the world of social media."
Change is hard
Change, good or bad, has always been difficult. If you've been on Facebook for awhile, you know that they occasionally make major changes that some users love and others hate. It seems the initial shock of change is what puts people off. They adjust to the way things are, and then all of the sudden it is something different. However, in most cases, after a couple of weeks, most people adjust to the new and have a hard time even remembering how things used to be. Looking back, we didn't use to have a news feed, we didn't have a wall. Those changes caused much angst as well.
The new news feed
So, here is what Facebook is saying about the new news feed:
Starting today, it will be easier to keep up with the people in your life no matter how frequently or infrequently you're on Facebook.

News Feed: See What Matters at the Top

When you pick up a newspaper after not reading it for a week, the front page quickly clues you into the most interesting stories. In the past, News Feed hasn't worked like that.  Updates slide down in chronological order so it's tough to zero in on what matters most.

Now, News Feed will act more like your own personal newspaper. You won't have to worry about missing important stuff. All your news will be in a single stream with the most interesting stories featured at the top. If you haven't visited Facebook for a while, the first things you'll see are top photos and statuses posted while you've been away. They're marked with an easy-to-spot blue corner.

If you check Facebook more frequently, you'll see the most recent stories first. Photos will also be bigger and easier to enjoy while you're scrolling through.

News Feed often has a time lag. Usually when you're on Facebook, a lot of your friends are too. Until now, there hasn't been an easy way to see and chat with your friends about photos, articles, and other things they're posting in real-time. The new ticker helps you do just that.

Ticker shows you the same stuff you were already seeing on Facebook, but it brings your conversations to life by displaying updates instantaneously. Now when a friend comments, asks a question or shares something like a check in, you'll be able to join the conversation right away. Click on anything in ticker to see the full story and chime in – without losing your place. See more from this article here.
It takes time
It takes a little time to adjust. I think Facebook is not always the best about how they roll out changes. I think they are kind of using the "pulling off the band-aid" approach – do it all at once and get the pain over with. The profound changes that are promised today are dreaded by some and eagerly awaited by others. I'll be here watching for the changes and then trying to see how to best leverage them to help you continue using Facebook to build relationships and reach your target market. Stay tuned.
Download the current Facebook 101 for Business eBook and you will be notified in advance when the new, revised and expanded version is available that will include information about all the changes that are happening right now!