If you are using Facebook, you may have noticed some significant changes in your news feed this past weekend. One of the most interesting changes was that Facebook now decides what posts from your friends are most interesting based on an algorithm they created. Fortunately, they did give you ways to change it to suit your own tastes. Go here to see the Facebook Q & A and get more information.
Now . . . on to other news:
You may have noticed a new feature on the blog today! Wharton Website Design has teamed up with Soldiers' Angels to participate in the Valour IT project.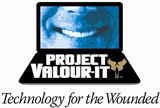 Many of our military who are wounded receive comfort by way of technology. The Valour IT project is a fund raising effort to help provide the purchase and shipment of laptops and other technology for severely wounded service members. As of November 2008, Valour-IT has distributed over 2700 laptops to severely wounded Soldiers, Sailors, Airmen and Marines across the country, and is now expanding its mission to include other technology that supports physical and psychological recovery. Every cent raised by this effort is used directly for the purchase and shipment of the technology needed.
The project is divided up by teams representing the different branches of the armed services to make it a little more fun. All of the money raised by the teams is for the same project. Wharton Website Design and Marketing has joined the Marine team! Go Marines.
If you would like to donate to the help and comfort of our military, please  click on the Valour IT link on the top right.
How else can you help? Join the effort yourself by posting about this on your blog. Help us get the word out. This fund raising effort runs from October 26 through Veterans Day, November 11!
Let's give back to those who sacrifice for us!