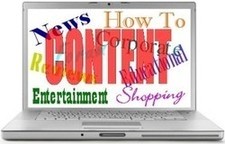 You've decided to take the plunge and set up a website for your small business. The first thing you need to decide is what you are trying to achieve with your website. Will your website simply be an online brochure, or will it be an e-commerce site where people can buy online? Or would you like to make it more of a lead generator where you are more involved with your customers online through a blog or discussion board?
While there are more, I will be discussing three basic types of small business websites. They are:
The Online Brochure Website
The "Lead Generating" Website
The E-Commerce Website
The Online Brochure Website
This is the most common type of website, usually containing 3-10 pages. As the name implies, it resembles a standard paper brochure. The content of these websites is usually limited, containing contact information, products and services offered, and a description or history of the company. These sites are usually static, meaning they are not updated very often. Brochure websites are relatively inexpensive and require little in resources to create and support. Brochure Websites are akin to Yellow Page ads.
The "Lead Generating" Websites
This type of website is more advanced than the "Online Brochure" website. It can be used for lead generation. It might contain a blog where you post several times a week on issues relevant to your business, products or services. You might create eBooks and White Papers for downloading. Due to the substantial and unique content, updated regularly, such a website would be of more interest to your customers and potential customers, and will increase their trust in your business. This type of website requires more in resources. There needs to be someone dedicated to running it daily. But the benefits of such a website are well worth it for many businesses.
The E-Commerce Website
This type of website is used to sell products or services online. Visitors to the website will be able to view your products/services and buy them online. This type of website demands more in human and financial resources to develop and support. So, be prepared to spend more time and money.
Key Take Aways
Every small business should at least have a "Online Brochure" website, and for some businesses, this is all they need. For many small businesses (particularly those with longer sales funnels), the "Lead Generating" website will be the most effective choice. The "Lead Generating" website can generate qualified leads for small businesses. If you want people to be able to buy online, you need an "E-Commerce" website, but be prepared to spend more time and money.
When taking your small business online, you should consider your objectives before deciding which type of website you will need.