Turns out there is a lot of website redesigning going on. We really enjoyed HubSpot's Mike Volpe's presentation on the science of website redesign yesterday. Today, I am sharing a few take aways and my thoughts from the webinar.
Why?
The reasons that people redesign their websites were varied. However the most sited reason was to modernize the site.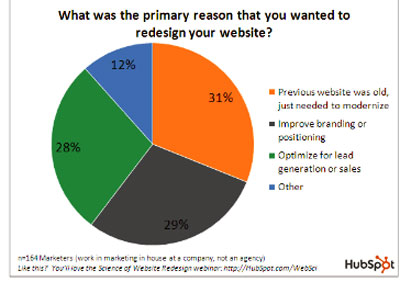 No reasons were given for the need to modernize. The businesses that we talk to often need to modernize because their site is not visable across all browsers or not mobile friendly. Another reason businesses want to redesign is to put their site in a content management system (CMS) so they can make changes themselves.
Another key take away was that consumers don't really care about your design. Consumers want to be able to find the information they are looking for easily! That means that a lot of consideration must be given to the navigation of the site.  Our rule of thumb is to keep the number of clicks required to get to a page to no more than 2 (and preferably only 1).
When?
The study also found that most people advise a redesign every 1 to 2 years. However, consumers preferred that sites they visit be redesigned more often. I think this is because consumers crave new information. When consumers visit sites, looking for information, they want the freshest, most up to date information available. In this case, a complete redesign may not be what is necessary.
Businesses that keep content up to date are the ones that are pleasing the consumer. Of course, as we have stated many times, a blog is the best, most effective way to continually add fresh content to your site.
How?
A website redesign can be fraught with pitfalls. The pitfalls listed in the website redesign webinar were:
removing valuable content
losing value of inbound links
losing SEO rankings
losing social media mojo
changing good conversion points
These points are often overlooked by web designers. In a recent live seminar that I attended, attendees were told that after a redesign, their traffic would initially drop but would pick back up within 6 month. This happens when businesses and web designers don't measure the assets of the current website and protect them going forward. Assets can be protected by preserving content that is working and creating redirects from old URL's to new URL's to preserve the SEO.
To redesign the right way, HubSpot recommended:
Know your website's purpose
Get metrics in place
Set a goal for the redesign – have metrics for that goal
Benchmark vs. competitors
Audit your website's assets to protect them
The study found that businesses that had a clear goal for the redesign and measured before and after were the happiest with their redesign.
Thanks to HubSpot for another great webinar full of really useful information. HubSpot is always on the bleeding edge (they have passed the cutting edge). That is why we are Certified HubSpot Partners!

Learn how to grow your business with HubSpot's
award winning marketing software!