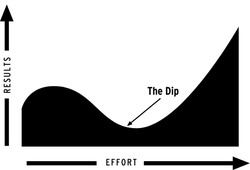 Most bloggers experience what Seth Godin calls "the Dip". For those not familiar with Seth's book, The Dip, I'll try to define it here. The Dip is what many people and businesses experience when they start something new. It is a "temporary" setback that can be overcome with persistence. But all setbacks are not temporary, some are permanent. The key is to know early on if a setback is temporary or permanent.
In blogging, almost every blogger starts out having to acquire readers. Sometimes this can take awhile. It can be frustrating and discouraging. In fact, Technorati reported in a 2008 survey that the blog abandonment rate was around 95%. That means that 95% of the people and companies that started blogs had given up on them.
When my wife started her personal blog, A Southern Life, it took several months for her to consistently get double digit hits. But she posted almost every weekday for two years and now has almost 600 posts. She now gets over 100 hits per day if she doesn't post anything and 500+ hits when she does post. Most of those 100 hits come from searches on search engines that found her older posts.
Blogging is a commitment that often takes time before you see the return on investment. But persistence and consistency will pay off in the end. When you do get through the Dip, you'll be happy with the results.