In case you were thinking that, since you now have a Facebook page, a Twitter account, a Foursquare account, etc., SEO (search engine optimization) is just taking care of itself, you could be wrong.
SEO is still something that businesses need to give some serious attention.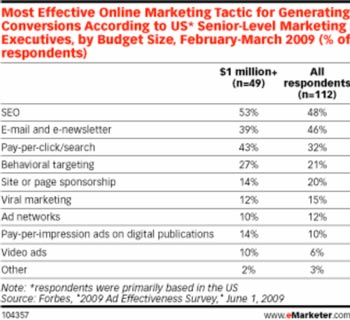 As an effective online marketing tactic, SEO ranked #1 in this survey from Forbes.
Of course, you do need to include social media in your SEO plan. Using your keywords to get found on Facebook is a great tactic considering that Facebook has overtaken Google search as the most visited site. However, keep in mind that you do not own Facebook or Twitter or any other social media platform. Sometimes, they make decisions that can impact your business that you cannot control. For example, Facebook recently removed the ability for business pages that had less than 10,000 fans to set an FBML page as a landing page for new visitors. Of course, after the screams and outrage of many small businesses on Facebook, they reversed that decision very quickly.
The point is, you should definitely include social media in your SEO plan, but don't forget about your own website. The one that you own and control. So what are some of the things you can do to enhance the SEO on your website?
Research your keywords. See what people are searching for that relates to your business. There are lots of free tools available. Just search for "free keyword tools" to see what is available and do the research.
Remember to go back and do that research on a regular basis as your keywords could change over time as people are using different words to search.
Select one or two keywords or key phrases for each page on your website.
Now that you have your keywords selected, let's look at some "on page" SEO tactics:
Use your keywords in your root domain name if possible. If you already have a domain name that you have been using that does not include your keywords, don't change your domain just to include them. However, if you are just starting out, go ahead and get a domain that includes your main keyword or keyword phrase.
Use your keywords in your page title. Each page should have a unique title and that title should contain the keywords or keyword phrase pertinent to that page.
Use your keywords in your content. Make sure that they occur naturally. Stuffing keywords in will not make sense to your visitors, and it will make you look amateurish.
Make targeted landing pages with unique keywords/key phrases for each page.
Create fresh, unique, relevant content on a regular basis.
Use your keywords in your alt tags.
Now, let's look at some "off page" SEO tactics:
Get other relevant sites to link to you. How do you do that? Create great content. This is sometimes called, "link bait" and is a great SEO tactic.
Use social media to spread the word about your great content. Add useful information to social communities to build a reputation as an expert.
Enhancing your SEO will help your target customers find you. Once they find you, treat them well. Give them the information they are looking for and provide them with easy ways to contact you or to take the next step to becoming your customer. SEO is an important part of your overall business strategy puzzle. Make sure you give it some attention.