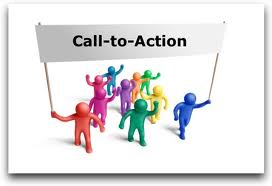 When people land on your website/Facebook page/Pinterest page, etc., what will they find? What is on your site that converts visitors into leads and customers? On every part of your web presence, you should be giving people an opportunity to become a lead or a customer. This is where CTAs (Calls to Action) come in.
There are different types of CTAs depending on where your visitor is in the sales process. For an ecommerce site, the CTA is easy- Buy Now. For other businesses, you may need a little more creativity. You may need to create offers that inform and nurture your visitors.
When you are creating CTAs, remember to always keep your visitors' needs and desires in mind. Offer CTAs that inform and educate. Often, visitors are looking for information that will help them in their buying decision. You can create whitepapers and eBooks that are informative about your product or service that will educate your visitors. Perhaps, your visitors are looking for special offers. That is another great CTA. Offer a special deal for your visitors that they can't get anywhere else. Not only is this effective for turning visitors into customers, it's also a great way to track the effectiveness of your CTA.
What CTA can you create today that will convert your visitors into leads and customers for your business? Creating CTAs is an important part of inbound marketing that you cannot ignore if you want to be successful at internet marketing.