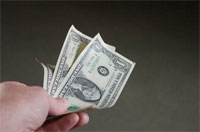 Is cheap web hosting the answer for your small business? We have clients tell us all the time that they have seen web hosting packages for $4.95 (or less) per month with unlimited disk space and bandwidth. And I must admit, prices like that look very enticing to the small business owner trying to save money. But buyer beware!
While there are many good hosting companies offering cheap web hosting packages, there are several issues the small business owner should be aware of before purchasing one. Among these are:
is unlimited really unlimited
is 99.9% uptime meaningful
the number and nature of other websites on your server
Is unlimited disk space and bandwidth really unlimited?
In many, or most, cases, a small business website will never have a problem of pushing the limit of the term unlimited as it relates to cheap web hosting. But if you read the fine print in most cheap web hosting contracts, the web hosting company has the right to define unlimited as pretty much whatever they want.
Case in point. My wife has a friend who has a VERY popular blog. She used one of these cheap web hosting companies offering unlimited everything. One day she gets an email from said cheap web hosting company saying they had shut her blog site down because she was using too much bandwidth. Her site was down. She had to call and beg the cheap web hosting company to keep her blog up until she could move her site to another hosting company. Since she had been blogging almost daily for several years, moving her blog was no easy task.
Is 99.9% Uptime Meaningful?
Just about every web hosting company claims a 99.9% uptime. What does that mean? If you take 99.9% over the course of a year, that means that your site could be down for 8 hours and 45 minutes during that year and the web hosting company could still claim it was up 99.9% of the time.
Case in point. Several years ago, we used a cheap web hosting company (a very respected one) for our clients sites. One day we noticed our site was down. And every one of our clients who was on that server was down. We finally got a hold of someone at the web hosting company and were informed that another business on the same server was running an email campaign. This was eating up all of the bandwidth. Our sites were down for at least an hour that we know of. We immediately changed our web hosting to a different hosting company. Our current hosting company does not allow mass emailing from their servers.
The Number and Nature of Other Websites on Your Server
Cheap web hosting companies host thousands of sites on the same server. You need to see how many and what types of websites are going to be on your server. If you are on a server that has thousands of other sites and all of those sites are being accessed at the same time, your site may not be accessible at that time or it may be very sluggish. If your site happens to be on a server with porn websites, search engines may penalize you. Unless you have checked, you may not know that you are in a bad neighborhood.
These are just three possible issues with using a cheap web hosting company. So remember, if your business website is important to your business, you should consider these possible problems before using a cheap web hosting company.