Even though social media is a great SEO tool, businesses still need to give some thought and attention to the SEO strategy on their websites. This is a great infographic from our friends at Hubspot: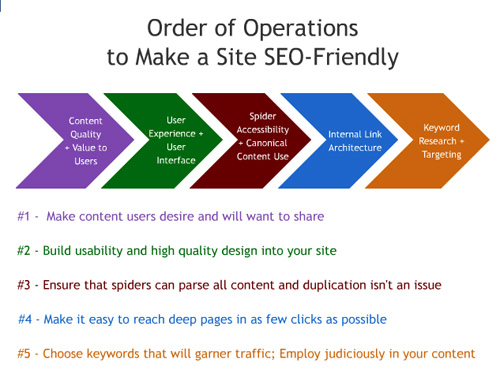 Let's take a look at each of these SEO Strategies.
Make content users desire and will want to share. Content is so important for SEO. When you think about what your target market is looking for, think in terms of what words they might use to find you. Those words are what will become your keywords. However, you may have more than one product or service so you will need to have different keywords for each of those and a separate page on your site for each. When you are writing content for your site, use the keywords you have researched for each page in a natural manner. In other words, don't stuff keywords in to every sentence. Just make your page interesting and informative and easy to be read.Keep your content fresh. Nothing is worse than coming to a site and finding that all of the information is 3 years old. A great way to keep fresh content rolling out is through a blog.
Build usability and high quality design into your site. Make sure that when people do find you, that you are delivering the information they seek on an easy to navigate site that is pleasing to the eye. Avoid the use of too many rotating pictures and flash elements. Think about how your site will look on a smart phone. Clean and simple is best. Make sure your pictures and other graphic elements are optimized to load fast. It is frustrating to people who visit your website to have to wait for you pages to load.
Make sure spiders can parse all content and duplication isn't an issue. This kind of goes back to high quality design. If your site is created entirely (or even mostly) in flash, then you are making it very difficult to be crawled by search engine spiders. Keep those flash elements to a minimum or eliminate them entirely. Be sure all of your pictures and graphics have alt tags that accurately describe them. Search engine spiders can't "see" pictures, but they can see the alt text behind the pictures.Look at your pages and see if you are duplicating content. Search engines may discount duplicate content. Try to keep the content on each page as original as possible and make sure your content is original to your site.Be sure to include an XML Sitemap on your site. This allows spiders to know the location of all the pages on your site, when they were last updated, as well as other information about your site.
Make it easy to reach deep pages with as few clicks as possible. Your navigation is a very important part of your site to consider. Try to keep the number of clicks to get to any page on your site to a minimum. For pages deep in your site, try to keep it to less than 3 clicks.
Use keywords that will garner traffic. Use judiciously in your content. Research your keywords carefully. There are free tools available like the Google Keyword Tool. There are also some wonderful tools integrated into paid solutions like the Keyword Grader in the Hubspot Inbound Marketing Software. As we said in the 1st strategy, use the keywords judiciously.
Use these strategies to get your website found and indexed by search engines and drive traffic to your site!
Key Take Aways:
Businesses should pay attention to the SEO on their own websites as well as using social media to drive traffic to their sites.
Next Steps:
Use one of the keyword tools to research possible keywords for your site and see if you are using them well. Keywords change over time, so remember to do this on a regular basis.
If you would like to learn more about the Hubspot Inbound Marketing software, contact us at Wharton Website Design and Marketing.