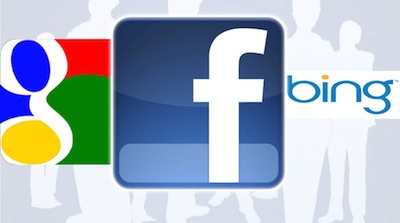 In the next couple of weeks, this blog will be discussing SEO (search engine optimization). Today, lets look at Facebook SEO Strategies.
Google is still an important part of the search engine optimization puzzle, but more and more Facebook is just as important if not more important for search. Google uses algorithms to determine what relevant information to return for a search. A Facebook  search is more social and subjective because it gives its users the opportunity to highlight what interests them. More than 2.5 million websites have integrated with Facebook adding even more relevancy to optimizing your Facebook page to get found.
Here are some key strategies for Facebook page optimization.
Activity – when you post updates on your page, your updates show up in your fans' news streams. While you don't want to be spammy and post hundreds of times a day, you do want to be visible.
Be remarkable – that is, get people to comment on, and like, your posts. Post informative, relevant information and invite people to comment. This is important for Facebook optimization as well as search engine optimization. According to Inside Facebook:


When fans comment or like content in your Facebook Page's stream, Facebook links their name back to their Facebook profile page. As a result, when the profile stubs of those fans who have posted comments and likes on your Page are indexed, Google will see more reciprocal links between your Page and your Page's fans (in a way that grows organically over time), which it will see as a stronger bond. This creates a virtuous cycle of improved link weight from the indexed profile page stubs to your Page, and vice versa.

Get more Facebook internal inbound links by attracting more fans. When someone likes your page, Facebook adds a link to your page to the information page of the fan's profile page.
Add a like box for your page to your website to give people who visit you an easy way to like your Facebook page.
Create custom pages in Facebook with iframes (where you used to use FBML, Facebook is changing to iframes). On your custom content page, you can write keyword rich information that can be found both in Facebook and by Google.
Post links to your website or blog in your status update. Make sure when you are linking to your website, your website is up to date and relevant. A blog is a great way to keep your information updated. Post links are a great way to help your business get found on the web. Again, just make sure you are being informative and relevant.
Add events with keyword rich descriptions.
Add pictures with keyword rich captions.
Create discussions that use your keywords.
As always – be consistent and be relevant!
With consistent, continuing effort, you will start seeing results for being found on both Facebook and Google. Now, of course, the question is, what will you do with those new visitors. We'll be discussing that in a later post. But for now, keep in mind, it does not matter how many visitors you get if you do not have a strategy for turning them into customers. Stay tuned!
Key Take-Aways:
Facebook has become an important part of the SEO equation.
Using Facebook SEO strategies is a great way to help people find your business online.
Next Steps:
The Facebook for Business Checklist has been revamped! Download it now for free and go through the 10 easy steps to making sure your have all the basics covered on your Facebook business page.